Turn over your eating habits! SAVE your HEALTH and WEALTH!!
Follow us! Experiment #Lifestyles premium products to optimise your health and save unnecessary money on medicine!
✅PREVENT Abnormal cell growth (Cancer)
✅Restore your body inflammation (away from major diseases)
✅Slow-down Aging Process (Restore your DNA caps – Telomere!)
✅Fight Food and Air Pollution of our modern lifestyles
✅Strengthen and Balance your body's 8 Biological Systems
✅Antioxidant effect – boost your nutrient absorption capacity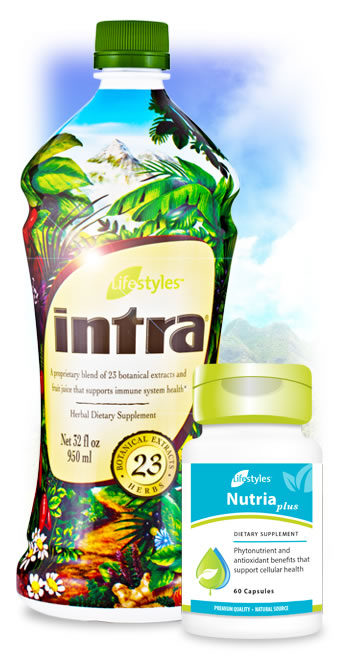 #Intra & #NutriaPlus
Better Together:

The Synergy Of Intra And NutriaPlus

NutriaPlus is a breakthrough formula that complements the 23 time-tested and trusted botanical extracts in Intra. When both are taken together, your body can benefit from more than 250 health building properties.

The antioxidants found in NutriaPlus protect cells and have been known to fight diseases including cancer. The 23 botanical extracts found in Intra provide the body with vital nutrients. When Intra and NutriaPlus are combined, the ingredients have a powerful synergistic effect, including better absorption and increased reactions in the body.
The Antioxidant Power Of Intra And NutriaPlus
On a standardized scale, the power of Intra and NutriaPlus together produce a Total Antioxidant Capacity (TAC) of 1501. TAC measures the power of an antioxidant based on its ability to neutralize free radicals. Higher TAC levels equal stronger antioxidant capacity.
NutriaPlus
NutriaPlus is a powerful antioxidant supplement formulated with fruit and vegetable concentrates, plant extracts, vitamin C and selenium to help your body defend itself against the health challenges of modern life! NutriaPlus was developed in conjunction with the zebrafish research laboratory at Acenzia Inc.
Lifestyles developed NutriaPlus as a combination
of 12 synergistic ingredients that showed amazing results in helping human health!
Proven benefits of NutriaPlus:
Reduces cell damage caused by toxic effects of pollution and


chemicals *
Cell Health – reduces inflammation at the cellular level *
Keeps healthy cells healthy your entire life *